Guests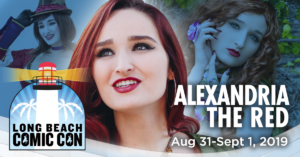 Alexandria
Alexandria the Red is a cosplayer and model based in Southern California. She first discovered cosplay in 2012 as a teen and quickly immersed herself in the cosplay and convention community. Alexandria is a self-taught seamstress, who loves having an outlet for her creative energy. In her nearly 8 years as a costumer, she brought dozens of beloved characters to life. Appearing in Booth 745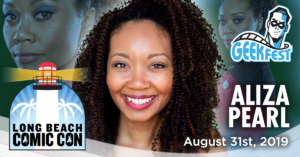 Aliza Pearl
An improviser, actress, writer, RPG host, and producer. She has co-written Nerdist Presents sketches and music parodies including "Team Nerdist Hitman", "Young King-Black Panther Jaden Smith Parody" (co-writer, 1.4 million views), and "Darth Vader Teaches Branding" (co-writer).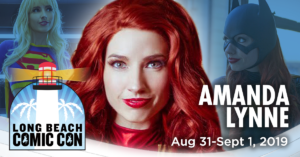 Amanda Lynne
Cosplayer, model, and actor known for her high level of accuracy and passion for comic books. She has notably portrayed Jean Grey in 20th Century Fox's X-Men Cerebro VR Interactive Experience, the documentary "Comics In Focus: Chris Claremont's X-Men", and the Cosplay Variant cover of Extraordinary X-Men #1.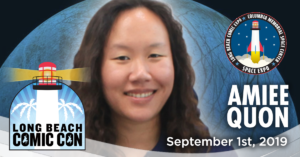 Amiee Quon
Amiee Quon designs and builds mechanical ground support hardware at JPL. She has worked on integration and testing for Mars Helicopter, Juno, and Mars Science Laboratory/Curiosity.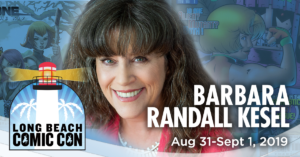 Barbara Randall Kesel
Comic writer and editor. Barbara's bibliography includes work for DC Comics, Marvel Comics, Crossgen, Image Comics, and Dark Horse Comics.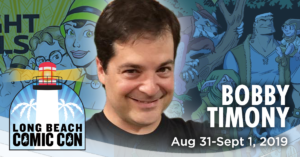 Bobby Timony
New Jersey-born artist, Timony's career in professional art started with some of America's top advertising agencies including Bates Advertising, JWT, and BBDO, where he drafted storyboards for M&M, Campbell's Soup, and Gillette. In 2007, he debuted his paranormal detective web series "The Night Owls" with DC Comics.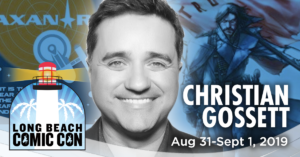 Christian Gossett
Comic Book creator (THE RED STAR) and Videogame designer for Activision, Sega, Namco, Microsoft and others. His most recent game was as a Story Artist for Activision's flagship franchise Call of Duty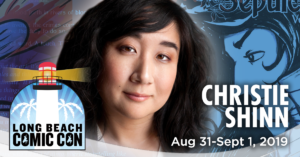 Christie Shinn
Christie Shinn is an illustrator and comic artist. Unfortunately, Christie has to cancel her appearance due to unforeseen medical issues. See our GOFUNDME page: https://www.gofundme.com/manage/christie-shinn-needs-you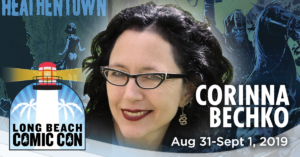 Corinna Bechko
Writer of HEATHENTOWN, GREEN LANTERN: EARTH ONE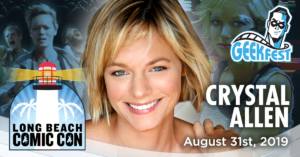 Crystal Allen
Known for her portrayal of the "Orion Slave Girl D'nesh" on Star Trek: Enterprise: Bound (2005) and as "Navigator Yara" in the popular independent film, Star Trek: Of Gods and Men (2007). Additional notable performances were on hit TV shows such as Haven (2010), Star Trek: Enterprise (2001), NCIS (2003), and The Sopranos (1999).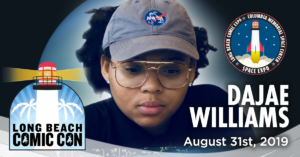 Dajae Williams
A Quality Engineer at NASA's Jet Propulsion Lab. At JPL, Dajae is responsible for helping ensure the quality of actuators for the SWOT and NISAR mission. In addition to her work at NASA, she writes educational hip hop music to aid in teaching underprivileged students STEM topics.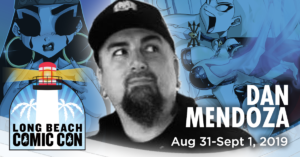 Dan Mendoza
Co-creator of "Dollface" which became the highest-selling 1st issue for Action Lab. Other titles under Dan's belt are, Penny for your soul (Big Dog Ink), Charismagic (Aspen), Vampironica (Archie), Puppet Master (Action Lab), Unnatural (Image), and Legendary, Title Lady Death (Coffin Comics).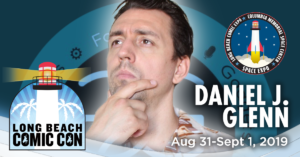 Daniel J. Glenn
An independent digital producer and podcast host. Glenn has created several shows including the podcast Fascinating Gadgets, Gizmos, and Gear-Based Technologies (FGGGbT). FGGGbT takes a look at the technology that exists in pop culture, such as TV and movies, then teaches you how they would work in real life.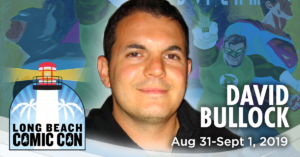 David Bullock
Animation designer and director on Star Wars: The Clone Wars, Justice League: The New Frontier, Kim Possible, The Spectacular Spider-Man and more. In comics, Bullock has worked on Action Comics, Batman '66 and more.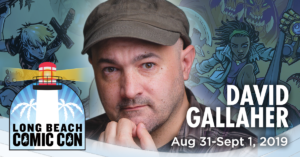 David Gallaher
Award-winning graphic novelist and video game writer David Gallaher is the author and co-creator of THE ONLY LIVING GIRL. His previous series, THE ONLY LIVING BOY, was nominated for multiple Harvey Awards, including Best Comic for Younger Readers.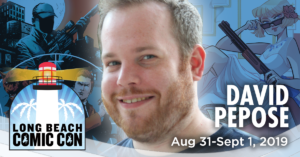 David Pepose
Critically acclaimed breakout series SPENCER & LOCKE earned five Ringo Award nominations, including for Best Series and Best Writer, while his new sequel SPENCER & LOCKE 2 recently landed on Barnes & Noble's Top Comics and Graphic Novels list for August 2019.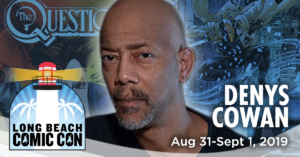 Denys Cowan
Artist, TV producer, and one of the co-founders of Milestone Media. As Senior Vice President of Animation at BET, Cowan was responsible for the creation, development, and production of animated programming for the network. This included the development and production of the Black Panther animated series.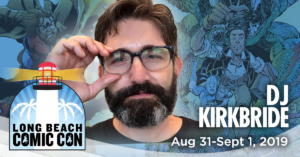 DJ Kirkbride
Author of the cosmic space opera THE BIGGER BANG and its sequel, THE BIGGEST BANG, both published by IDW. He co-wrote a modern reimagining of the King Arthur saga called THE ONCE AND FUTURE QUEEN, the superhero drama NEVER ENDING all published by Dark Horse Comics.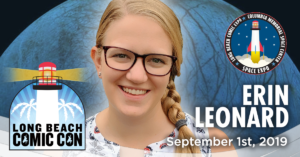 Erin Leonard
A scientist with an insatiable curiosity for anything involving icy satellites, especially Europa. Erin is now a Postdoctoral Fellow at the Jet Propulsion Laboratory working as a Europa Clipper Project Science Affiliate.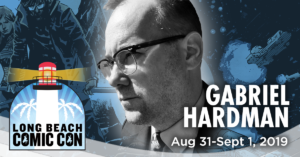 Gabriel Hardman
Co-writer/artist of INVISIBLE REPUBLIC, KINSKI and THE BELFRY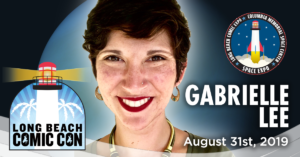 Gabrielle Lee
Gabrielle Lee manages contracts for Earth Science missions and commercial programs at JPL.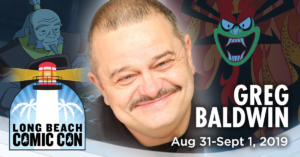 Greg Baldwin
Baldwin can be heard as ancient Jedi Master Tera Sinube on Star Wars: The Clone Wars, Frank Fontaine in the original Bioshock, and as Jack M. Crazyfish on Spongebob Squarepants. Notable video games include Rainbow 6: Lockdown, Assassin's Creed 2, F.E.A.R. and Fallout 4.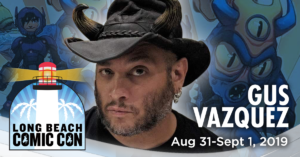 Gus Vazquez
Artist, producer, actor, and traveler raised in Brooklyn who loves the art of storytelling. Self-taught illustrator, he started his career as a comic book artist, most notably as the first artist to draw Big Hero 6, as well as drawing storyboards for animation, commercials and music videos.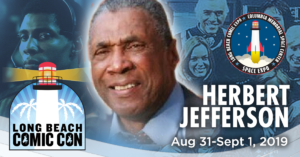 Herbert Jefferson
An Actor known for Battlestar Galactica (1978), Knight Rider (1982) and Apollo 13 (1995).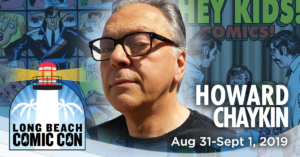 Howard Chaykin
40 year veteran Comic Book artist and writer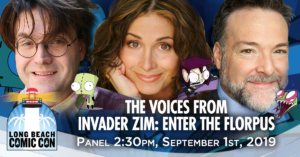 Invader Zim
Meet the cast!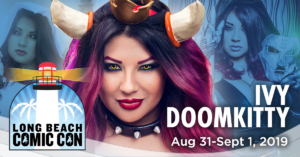 Ivy Doomkitty
Professional cosplayer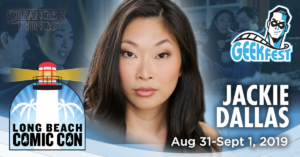 Jackie Dallas
Actress appearing in the GeekFest Film Festival pavilion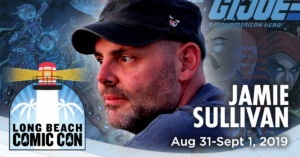 Jamie Sullivan
Cover artist for IDW's GI Joe: A Real American Hero comic series. As well as the artist for Toynami's current line of Robotech Toys and limited edition prints. He's worked for companies such as Disney and Marvel and has created art for Lucasfilm's Star Wars.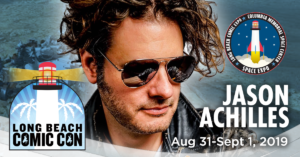 Jason Achilles
Working with NASA's Jet Propulsion Laboratory when he was called to assemble a team of audio research experts to advise NASA on microphone technology to be implemented on the surface of Mars with their upcoming Mars 2020 rover mission.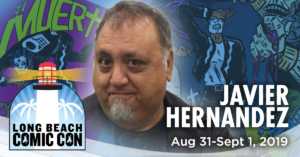 Javier Hernandez
Javier Hernandez is a cartoonist and arts educator. He published his first comic with his signature character EL MUERTO back in 1998. In 2007 a film adaptation of the comic was released, starring Wilmer Valderrama (THAT 70s SHOW).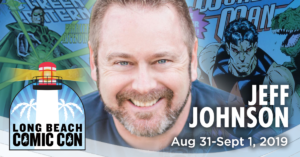 Jeff Johnson
Jeff Johnson has been a professional artist in comics and animation for the last thirty years. He has worked on everything from The Amazing Spider-Man for Marvel and Green Lantern for DC Comics to Transformers at Hasbro Studios and The Boondocks for Sony Animation.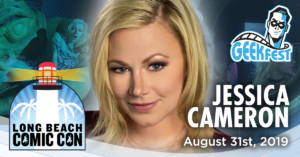 Jessica Cameron
Actress and filmmaker best known for Steven C. Miller's fan-favorite horror feature Silent Night and the classic holiday horror film All Through the House.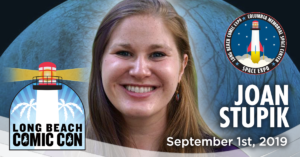 Joan Stupik
Stupik has been at the Jet Propulsion Laboratory for 6 years. She began working on the Cassini mission to Saturn, before turning her sights to Jupiter.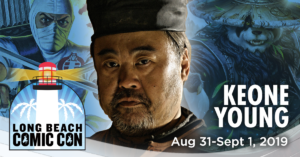 Keone Young
An actor and voice actor, best known for his roles as Storm Shadow in the G.I. Joe Animated Series, Mr. Wu in HBO's Deadwood, Jun Sato in Star Wars Rebels, Silver Samurai in Wolverine and the X-Men, Kaz Harada in Hi Hi Puffy Amiyumi, Dr. Hido Takahashi in HBO's True Blood, and Mr. Wu in Nickelodeon's The Mighty B!.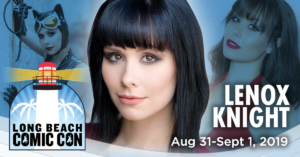 Lenox Knight
Cosplayer, booth 934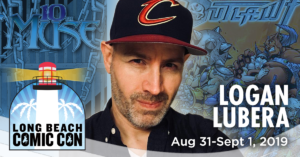 Logan Lubera
An illustrator, creative/art director, and concept designer who has worked in multiple aspects of entertainment, including comics, film, toys, and video games. Lubera has been published with Marvel, Dark Horse, Image, Games Workshop, and Blizzard.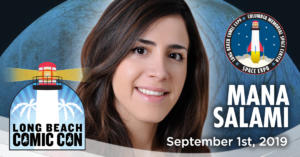 Mana Salami
Mana Salami is a Flight Systems Engineer at NASA's Jet Propulsion Laboratory.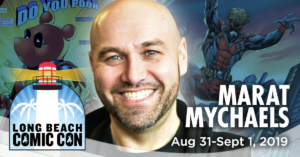 Marat Mychaels
Cover artist for such publishers as Marvel, IDW, Coffin Comics and Dynamite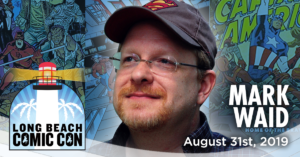 Mark Waid
Comic book writer for The Flash, Kingdom Come, Superman: Birthright, Captain America, Fantastic Four, and Daredevil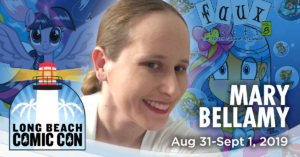 Mary Bellamy
A licensed illustrator who has worked on several large properties like My Little Pony, Marvel, DC Comics, Ghostbusters, Adventure Time, Rick and Morty, and more. She has worked as an animation assistant for Acme Filmworks' Drew Carey Green Screen Show and at Titmouse Inc. Animation Studios.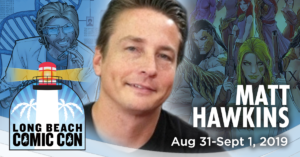 Matt Hawkins
President/COO of Top Cow since 1998, Matt has created and written over 30 new franchises for Top Cow and Image including Think Tank, The Tithe: Samaritan, Postal, Golgotha, Warframe, Aphrodite IX, and Swing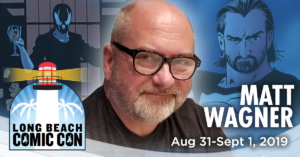 Matt Wagner
Comic book artist and writer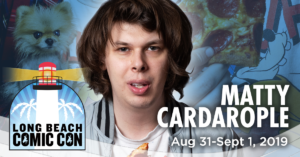 Matty Cardarople
Cardarople has been seen on such notable television shows as NCIS: LA, New Girl, NCIS: Naval Criminal Investigative Service, Angie Tribeca, Scrubs, Ray Donovan, You're The Worst, Comedy Bang! Bang!, Selfie, and Chasing Life. He has also appeared in the second and third season of the Netflix instant classic Stranger Things.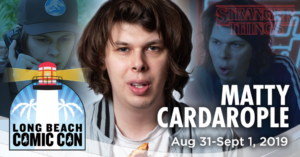 Matty Cardarople
Actor, comedian & voiceover actor as "Keith" in Stranger Things, "Hench Person of Indeterminate Gender" in A Series of Unfortunate Events, Jurassic World, Selfie, Scrubs, Comedy Bang Bang, and more as well as voiced "Apple" in the Cartoon Network Apple & Onion and of "Preston" in the new Dreamworks/Netflix animation Archibald's Next Big Thing.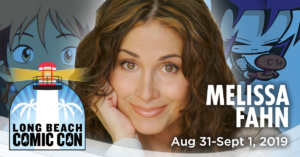 Melissa Fahn
An actor, singer and voiceover artist. Internationally renown voiceover artist, having voiced hundreds of characters, including BETTY BOOP, HELLO KITTY, BETTY RUBBLE, GAZ on Nickelodeon's INVADER ZIM, DENDY on Cartoon Network's OK KO! LET'S BE HEROES, NEPTUNE/PURPLE HEART in the NEPTUNIA video games.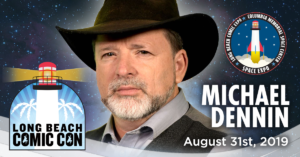 Michael Dennin
Pro. of Physics and Astronomy at UCI since 1997. You can find him in the YouTube series Fascinating Fights debating the outcome of battles between pop icons. Prof. Dennin also serves as an expert on the podcast Fascinating Gadgets, Gizmos, and Gear-Based Technologies where he explains how to make fictional technology a reality.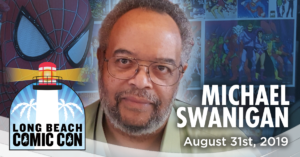 Michael Swanigan
4 time Emmy Award-winning animation director/storyboard artist Michael Swanigan is a veteran artist with over 30 years of hands-on experience in all areas of animation. Producing, directing, animating, layouts, storyboarding, development, and writing.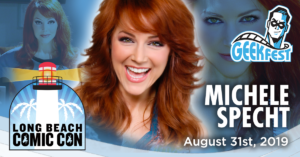 Michele Specht
Actress appearing in the GeekFest Film Festival pavilion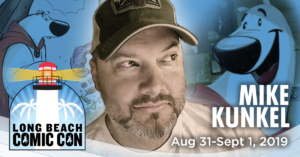 Mike Kunkel
Writer and artist nominated three times for the prestigious EISNER Awards, four Ignatz awards, and is the creator of the two-time EISNER Award-winning comic book series Herobear and the Kid.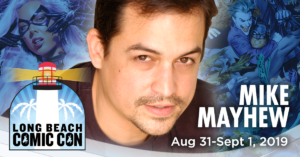 Mike Mayhew
An illustrator who specializes in photo-realism, and intense rendering of dynamic subjects. Current work includes drawing for DC Comics BLACK LABEL book JOKER/HARLEY: CRIMINAL SANITY, as well as producing variant covers featuring Marvel and DC characters.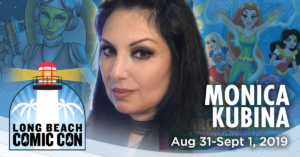 Monica Kubina
Award-winning make-up and special effects artist, texture artist and comic book colorist, who has digitally colored hundreds of issues of some of the most popular comic books. Some of the titles Monica has worked on have included X-Men, The Avengers, Star Wars, Justice League, SpongeBob, and DC Super Hero Girls.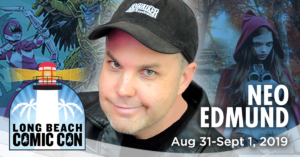 Neo Edmund
An actor and writer, known for Red Riding, the Alpha Huntress, Mighty Morphin Power Rangers (1993) and The Walking Dead (2010).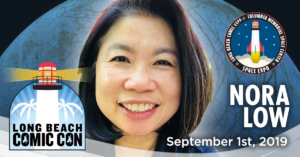 Nora Low
Low has worked on several NASA flagship missions. She started as a welding engineer on the Space Shuttle Main Engines then progressed to Materials engineer design on various NASA projects including the International Space Station Electric Power System and Mars Science Laboratory Radioisotope Thermoelectric Generator.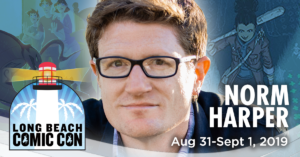 Norm Harper
An inker who made a name for himself during the early years of Image Comics on such titles as "Brigade", "Supreme", and "Bloodstrike". From there, Norm moved to Marvel where he worked on several titles including "Wolverine", "Coven", "Lionheart", "Superman/Batman", "Supergirl", and "Titans".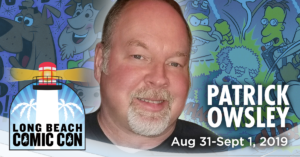 Patrick Owsley
Pop culture cartoonist known for creating cartoon art for licensing, publishing, advertising, logo design, lettering, character design and more! His clients include Hanna-Barbera (The Flintstones, Yogi Bear, Scooby-Doo), The Simpsons (Bongo Comics), Cartoon Network, Disney, DC Comics, Marvel Comics, and many more!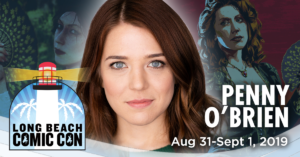 Penny O'Brien
Best known for her work in Red Dead Redemption 2 as Molly O'Shea.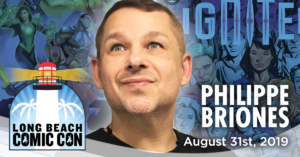 Phillipe Briones
French animator, author and comic book artist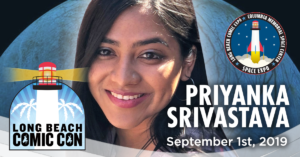 Priyanka Srivastava
Priyanka Srivastava is a space systems engineer at NASA Jet Propulsion Laboratory. At JPL, she is currently involved with NASA's next venture searching life on Jupiter's icy moon Europa. Previously, she has also worked on NASA's Earth Science mission: Orbiting Carbon Observatory-3 and the upcoming mission to Mars 2020.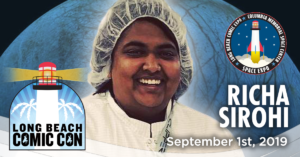 Richa Sirohi
Richa is a system testbed engineer on the Europa Clipper Mission working on the integration and testing of guidance, navigation, and control subsystems (i.e. star tracker, digital sun sensors, reaction wheels, and inertial measurement unit).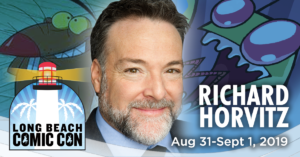 Richard Horvitz
Voice of many iconic characters, including INVADER ZIM, Billy from THE GRIM ADVENTURES OF BILLY AND MANDY, and currently starring as Kaos in the Netflix Original animated series SKYLANDERS ACADEMY. Gamers will recognize him from his video game roles in such classics as PSYCHONAUTS (RAZ).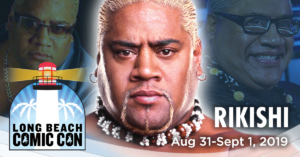 Rikishi
WWE wrestler who is a one-time Intercontinental Champion, two-time World Tag Team Champion, and one-time WWE Tag Team Champion. Rikishi is a member of the Anoaʻi family of Samoan wrestlers and was inducted into the WWE Hall of Fame by his sons, wrestlers Jey and Jimmy Uso, in 2015.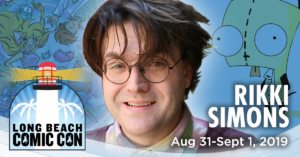 Rikki Simons
Voice actor, writer, and artist. Most famous for being the voice GIR and Bloaty on Invader ZIM. He also plays many characters on Mighty Magiswords. As a writer, he is known for the science fiction and fantasy novel Hitherto a Lion.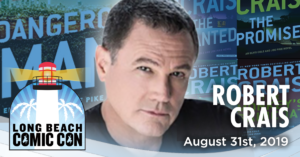 Robert Crais
Robert Crais is a multiple award-winning mystery/thriller author with more than 40 million copies of his books in print in 62 countries.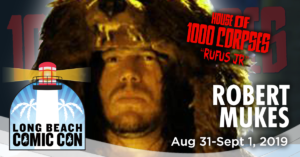 Robert Mukes
Robert is known for his work on House of 1000 Corpses (2003), Westworld (2016), and Coffin 2 (2017).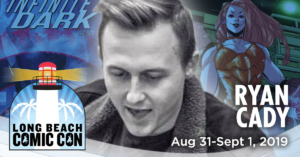 Ryan Cady
Talent Development Workshop, he has written for such properties as The Punisher, Venom, The X-Files, and more, with his first creator-owned series - Infinite Dark, from Image Comics/Top Cow Productions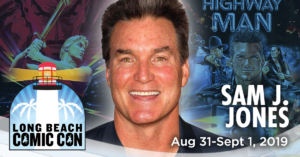 Sam Jones
Actor, most commonly known as FLASH GORDON.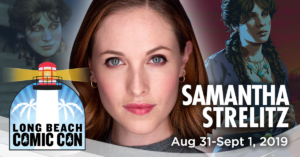 Samantha Strelitz
Best known for her motion-capture performance as Mary-Beth Gaskill in Red Dead Redemption 2. She is also an active esports and gaming host. Her live broadcasts include the midnight launch of Shadow of the Tomb Raider, Forza Horizon as well as Fortnite and PUBG invitationals, which have aired on Twitch, Mixer and Jinx TV.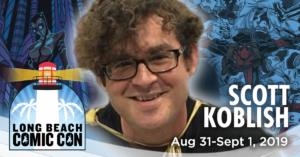 Scott Koblish
A prolific, Eisner Award-nominated artist best known for his work on Marvel Comics' DEADPOOL, Scott Koblish's sense of humor is on display in all his work, especially his cartoon collection THE MANY DEATHS OF SCOTT KOBLISH.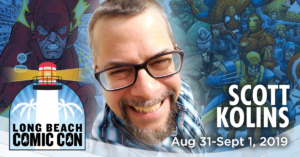 Scott Kolins
Award winning comic book creator, known for his art on THE FLASH, THE AVENGERS, JUSTICE LEAGUE and many more.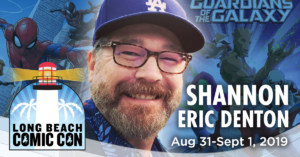 Shannon Eric Denton
A veteran writer and artist with credits at Cartoon Network, Warner Bros., Showtime, Jerry Bruckheimer Films, NBC, Disney, Sony, LEGO, Marvel Entertainment, FoxKids, Paramount, CBS, Dimension Films, DC Comics, Nickelodeon, and Blizzard Entertainment.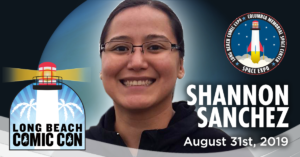 Shannon Sanchez
Sanchez is the Executive Project Assistant to the NMO Director and his Senior Staff along with the NMO as a whole.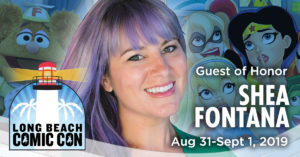 Shea Fontana
Writer for film, television and graphic novels, including DC Super Hero Girls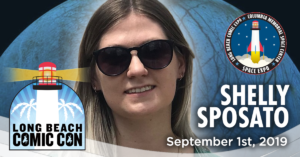 Shelly Sposato
Power Systems Engineer for JPL. Shelly has over 20 plants in her office, loves her two cats, and has traveled to 8 countries in the last year.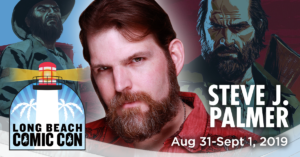 Steve J. Palmer
An actor known for portraying hot-blooded and short-tempered Van der Linde Gang enforcer Bill Williamson for Rockstar Games' RED DEAD REDEMPTION (2010), RED DEAD REDEMPTION II (2018), and the FOX Network Special RED DEAD REDEMPTION: The Man From Blackwater.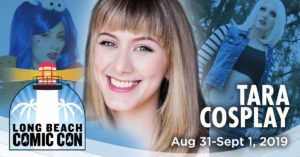 Tara Cosplay
In addition to cosplay, she is a professional actress, writer, director, and producer. Tara earned 5 Telly Awards all before she turned 16.
You can see Tara, as the quirky-girl-next-door-sexy host of the web show Nerdtabulous, every other Sunday. She is currently working on the feature film: "Candy Corn".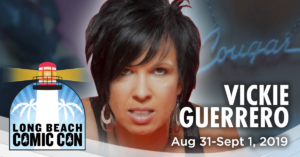 Vickie Guerrero
Vickie is a wrestler known for WWE SmackDown Live, WWE Superstars, and WWE Main Event.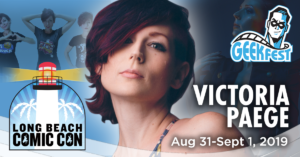 Victoria Paege
An actress/model/producer who has worked on numerous feature films (Piranha 3d, Man Called Nereus, Salvation) and tv shows (Dropping the Soap, Con-Man, Geek-Cred).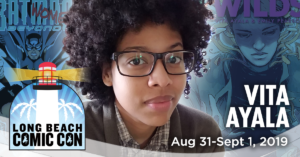 Vita Ayala
A writer who's worked with characters from major publishers including DC Comics, Dynamite, Image Comics, and more, this rising star genderfluid writer has made a name for themselves on titles including creator-owned THE WILDS and SUBMERGED as well as more-established heroes like Batgirl, Wonder Woman, and Xena.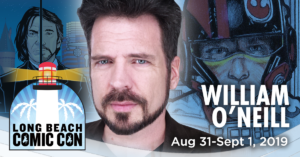 William O'Neill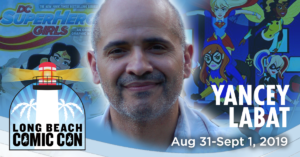 Yancey Labat
Ringo Award-winning illustrator of the bestselling DC Super Hero Girls original graphic novels, a three-time recipient of Diamond Comic Distributors' Gem Awards for Best All-Ages Original/Reprint Graphic Novels.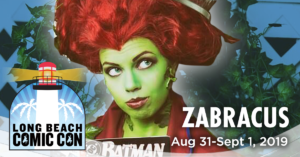 Zabracus
Cosplayer, booth 837