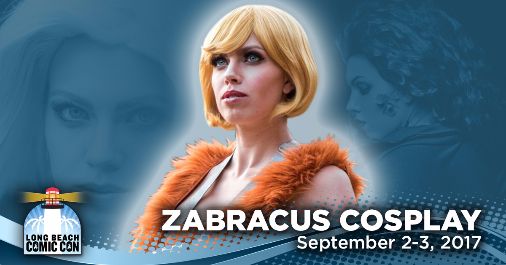 "One does not simply choose one cosplay," at least, that's what Boromir would say in regards to Zabracus (Whitney) and her obsession with cosplay (more like, determination to do ALL THE COSPLAYS). Zabracus is a level 25 nerd based in Salt Lake City, Utah, with a voracious appetite for RPGs and all things geek. A cosplayer since 2013, Zabracus has done a variety of costumes from Vegeta to Snow White to Poison Ivy to [S]he-Man, and so many more! When she's not hiding in her hobbit-hole with her welsh corgi, Smee, she is out exploring the world like a real-life Lara Croft.
She is a self-proclaimed film/tv critic, book enthusiast, foodie and wine-o. Not just a hero in cosplay, Zabracus volunteers much of her time in the "real world" as a member of Rotary International and local Causeplay groups. An entrepreneur at heart, Zabracus co-owns Super Sonic Speed Dating and Nerdvana Events, businesses meant to unite the geek kingdoms. You'll find Zabracus wandering around at comic conventions, frolicking through the mountain flowers, on Cosplayforall.com, or even in the Matrix. Say hello, be friendly, and make sure you have a pokeball around when a wild Whitney appears!
Zabracus has made appearances at Salt Lake Comic Con, Colorado Cosmic Con, Salt Lake Gaming Con, and more. She has won best collaboration and judges choice awards at Anime Banzai and Denver Comic Con.
More About Zabracus Cosplay