< See All News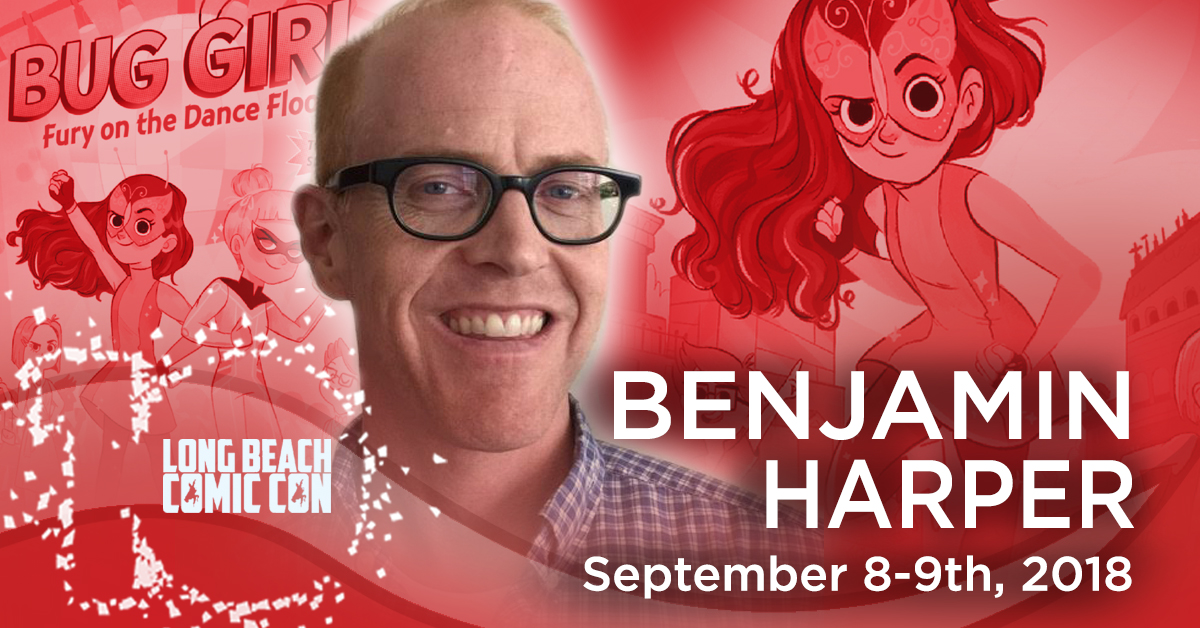 We thought it would be fun to do a quick Q&A with some of our guests.
First up we have Benjamin Harper, co-author of the BUG GIRL series from Macmillan. Ben's other books include OBSESSED WITH STAR WARS from Chronicle Books; STAR WARS: SHIPS OF THE GALAXY, STAR WARS: THE POWER OF THE DARK SIDE, and other Star Wars titles from Studio Fun!; HANSEL AND GRETEL AND ZOMBIES AND BIRD BOY graphic novelizations from Capstone Books; and many more.
Without further ado, here are our 5 questions for Ben!
Long Beach Comic Con: What are you most excited about for LBCC?
Benjamin Harper: I've never been to a con in an official capacity for any of my writing projects before! Sarah [Stephens, co-author of BUG GIRL] and I are super-excited for the opportunity to have our own booth, D7, and we hope we get to meet lots of people and introduce them to BUG GIRL. We're also really looking forward to taking part in the children's comics panel on Sunday!
LBCC: What made you want to be a part of the industry?
BH: I've been a massive geek since 1977 – can you guess why? And I've always been especially passionate about the positive messages that superhero and science fiction stories can bring to kids. Writing children's books – especially BUG GIRL – has given me the opportunity to do just that. BUG GIRL is an outsider in her middle school – but ultimately, she finds out that the things that make her different from the other kids are the traits that make her the strongest.
LBCC: What is one message you'd like to give your fans?
BH: BUG GIRL is all about taking whatever makes you feel awkward or different or maybe even like an outcast and using it to make yourself stronger. She doesn't let bullies bruise her spirit – and that's what we want kids to learn. Being yourself is the best superpower you can have.
LBCC: What is the most surprising or rewarding thing to happen to you at a show or with a fan?
BH: It's always great to meet kids who have read and loved BUG GIRL – but we met one girl at a signing whose mother told us that she loved BUG GIRL so much after she checked it out from the library that she hadn't wanted to return it. They checked it out several times. By chance they had discovered our signing for book two and came. She was kind of starstruck, and so were we.
LBCC: What questions do fans ask you most often?
BH: The ones we get most often are, "Is there going to be a third book? and "Is there going to be a movie?" My favorite was at a school visit. A student asked what our favorite colors are. I said, "Black!" and the room, about 135 children in grades 3-5, collectively gasped.
Thanks for playing along, Ben!
Don't forget to stop by D7 to say hello and check out the panel Nothing's the Matter with Kids (Comics) Today on Sunday at 11:00 AM in Room S4!