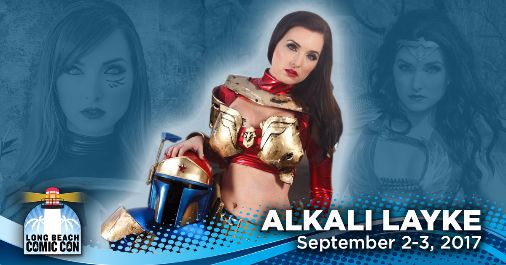 Alkali or Ally as she's known to her fans, got her start in Cosplay after appearing at a convention as a Special Effects Makeup artist. After that, it wasn't her makeup skills making the headlines…it was her cosplay! Ally still does special effects for short films and commercials when she's not jet-setting across the country to geekfests and comic conventions.
Ally considers herself an "equal opportunity geek" because she regularly geeks out on a multitude of fandoms.
Although she prides herself on her '90s Saturday cartoon knowledge, she's also a HUGE Star Wars fan, loves X-Men (hint hint…take another look at her cosplay name), Game of Thrones, Batman, and anything on the SyFy channel. Ally's most popular cosplays include WonderFETT (a mashup of BobaFett and Wonder Woman), Harley Quinn, Dark Phoenix, SheRa Princess of Power, HarleyPOOL (another mashup), and many more! She is also the proud LadyBOSS of a company called Level40Two, a monthly Cosplay Fan Box.
More about Alkali!